POD SYSTEMS VS DISPOSABLES: WHICH SHOULD YOU CHOOSE?
2023-08-23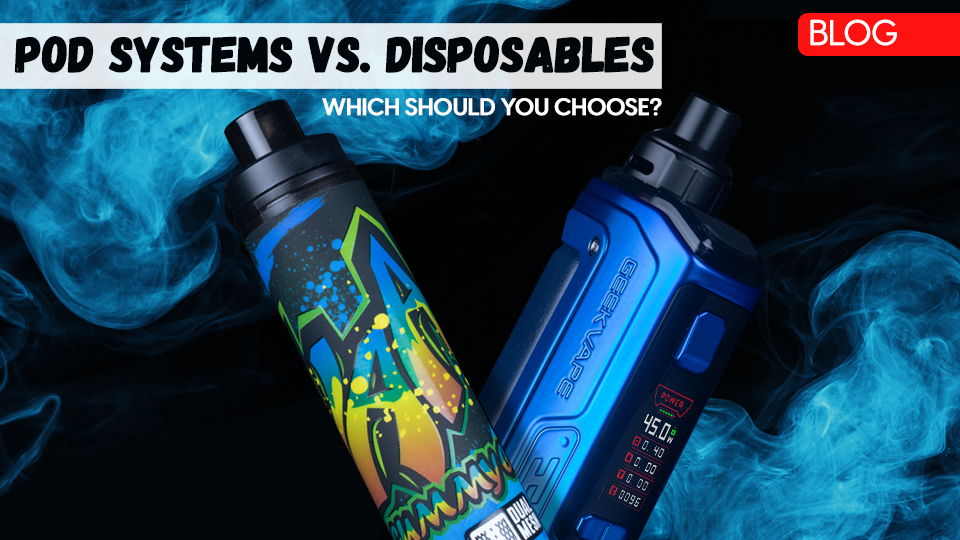 POD SYSTEMS VS DISPOSABLES: WHICH SHOULD YOU CHOOSE?
As vaping technology advances, the answer to the constant-lingering question continues to change: Which vaping device is better than the other? In the current era of the vaping industry, we are faced with two types of devices that have seemingly split the vaping community in half: Pod Systems and Disposables. For many, these two devices are interchangeable in their every-day usage. For others, however, these two devices are perceived to be far from similar, leading them to choose one over the other indefinitely. In 2022, we find ourselves pinning Pod Systems and Disposables against one-another in a head-to-head matchup which will cover a full-spec breakdown of pros and cons for each to help determine which device is right for you. (Heads up, neither is better than the other; it is entirely up to your situation and circumstance, in my opinion.)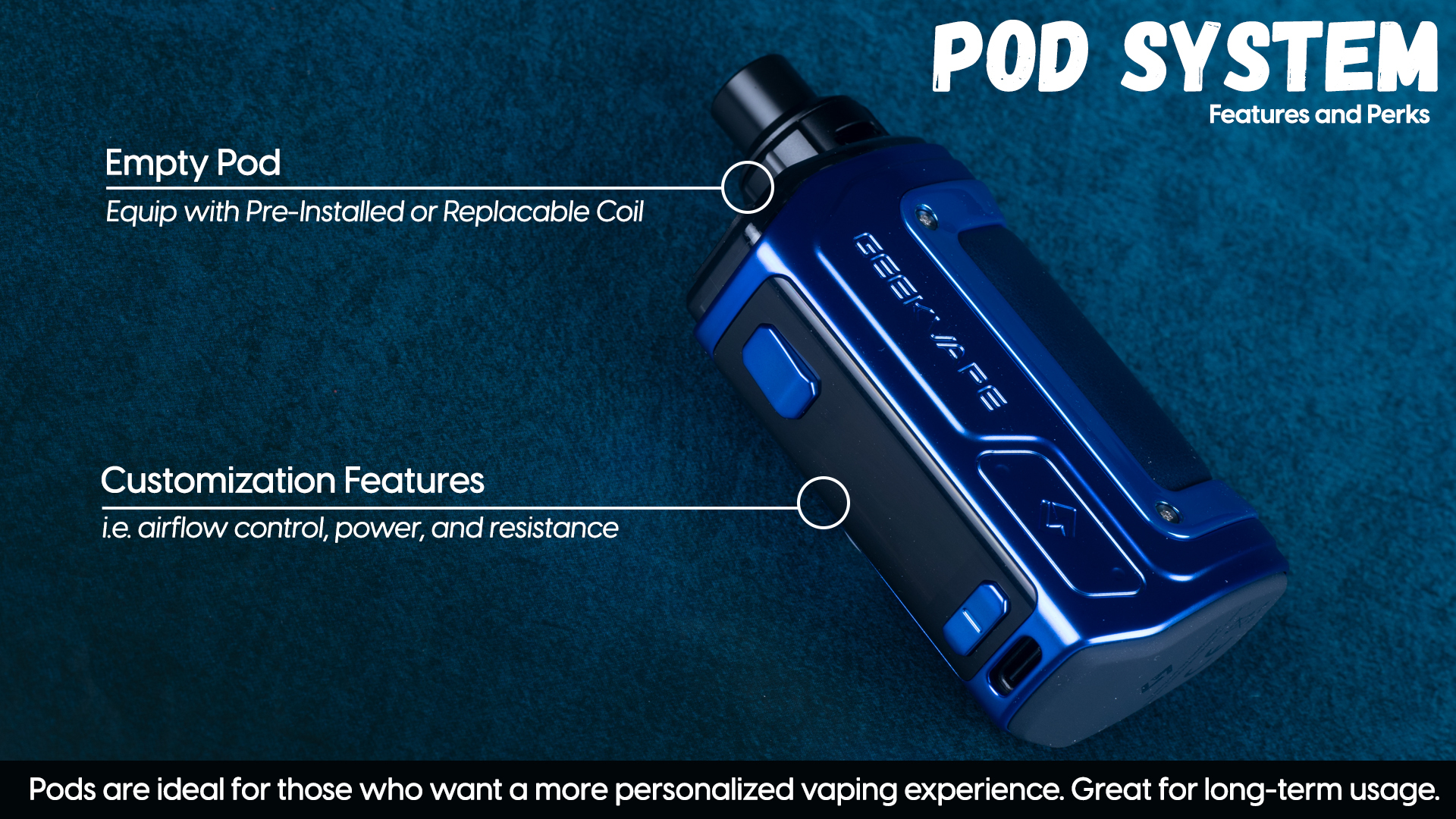 WHAT ARE POD SYSTEMS?
Pod Systems are an innovation based on convenience. In the past, with most vapers using box mods with rebuildable atomizers or sub-ohm tanks with freebase eJuice, many felt that they needed to chain vape to attain the desired amount of nicotine. This meant unloading gargantuan clouds that were not exactly discrete, nor acceptable in most social settings. In addition, the larger size and weight of box mods and starter kits is far from portable or friendly to those constantly on-the-go. Pod systems came into existence and gained immense popularity when combined with nicotine salts. This allowed for much smaller clouds of vapor that delivered a substantial amount of nicotine. Furthermore, the nicotine salts used are a bit smoother on the throat, even at strengths above 35mg, whereas, a freebase eJuice clocking in at 12mg or 18mg usually hits like a 18 wheeler with no brakes to the back of the throat. (For what it is worth, I vape on 3mg if it is freebase nicotine.) Pod Systems are most commonly encountered as a battery portion and refillable pod. Usually holding between 2-5mL, these pods are refillable, with some possessing replaceable coils. Most come with integrated batteries that are rechargeable via microUSB or Type-C USB, eliminating the need for a dedicated charger, instead relying on common charging cables that many already have.
TLDR – What are Pod Systems? – Breakdown:
Rechargeable
Reusable
Refillable
Disposable Pods
Flexibility with nicotine salt e-liquids of choice
Adjustable Wattage (based on device)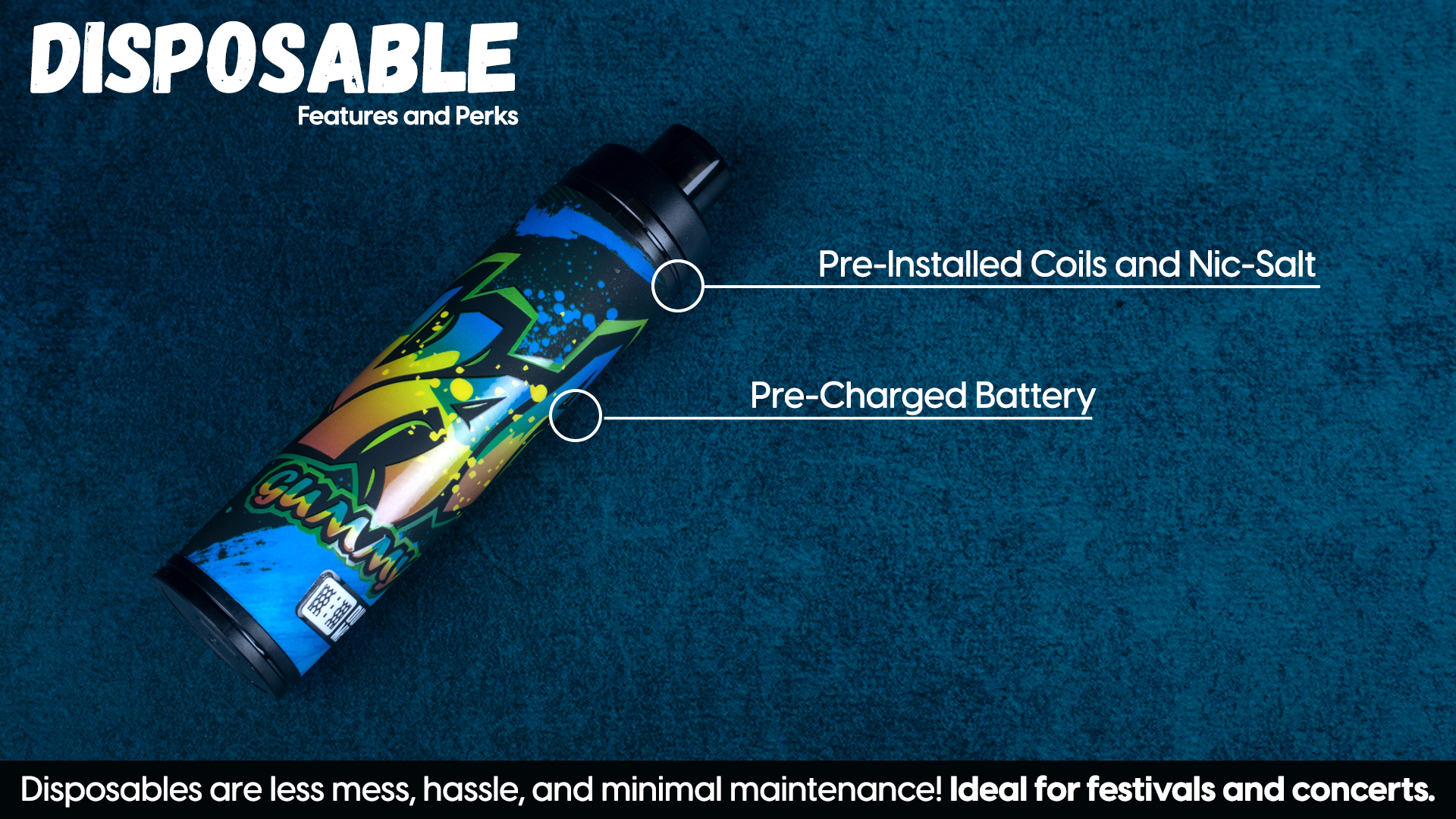 WHAT ARE DISPOSABLES?
Disposable Vapes are the latest surge within the vaping industry. Having a device that requires little to no experience is extremely enticing, as learning something new can be daunting. Disposable Vapes require no maintenance, need for refilling, and are incredibly simple to use. When the prefilled eJuice runs out or the battery dies, it is time for a new one. This makes disposables very appealing to those that love the convenience.

TLDR – What are Disposables? – Breakdown:
Disposable
Minimal Maintenance
Pre-filled Nicotine Salt E-liquid
Internal Battery
WHAT ARE THE PROS OF POD SYSTEMS?
Refillable – Pod Systems, and any applicable coils, are refillable or replaceable, costing around $15 for a pack of coils or pods.
Cost – Replacing coils, pods, or eJuice is not too expensive.
Versatility – Coil/Juice Selection is up to the user.
Waste – When replacing coils or pods, the its a miniscule amount of metal, plastic, and cotton within.
Longevity – A 30mL bottle of nicotine salts is anywhere between $12-$15. Disposables range anywhere from $7-$21 for 4-22mL of eJuice.
Convenience – Flavors can be changed as desired. Extra coils, pods, and juice can be kept on hand when needed.
More Features – Some Pod Systems can utilize temperature control, 510 adapters, and adjustable airflow controls.
WHAT ARE THE CONS OF POD SYSTEMS?
Initial Cost – Prices for the Pod Systems can be higher upfront, especially for more feature-laden options.
Capacity – Refills are a constant when the capacity is 2-5mL; also dependent on frequency of vaping.
Learning Curve – Understanding the ins and outs of the particular pod system is not difficult but does takes time
Availability – Supporting products like pods and coils for Pod Systems are harder to find. It is unlikely to find them at gas stations or convenience stores.
WHAT ARE THE PROS OF DISPOSABLES?
Convenient – Prefilled, Pre-charged, and Ready To Go!
Form Factor – Small and diminutive, these devices are just as portable as Pod Systems.
Availability – Many popular disposables can be found at your local convenience store, head shop, or smoke shops. I have personally seen them on food delivery apps from liquor stores – albeit at premium prices.
WHAT ARE THE CONS OF DISPOSABLES?
Waste – When a disposable is thrown away, everything inside is now unusable. The battery, plastic, and metal used to make the disposable is not recycled.
Lack of Versatility – You are locked into a certain heating element, nicotine strength, and output.
Limited Flavors – You are limited to the flavors the disposable is available in.
Limited Lifespan – With no indicators, battery and eJuice capacity is hard to gauge. Without a second disposable, you can be left without nicotine.
Cost – Prices for Disposables can be $15-$21 for 13-22mL in some of our most popular disposables in our online vape store. Other retailers can charge up to $25-30 for these same disposables.
DETAILED COMPARISON
| | | |
| --- | --- | --- |
| Features | Pod System | Disposables |
| Utility with Nicotine Salts | Yes | Yes |
| Internal Battery | Yes, with 18650 Options | Yes |
| Lightweight | Yes | Yes |
| Portable | Yes | Yes |
| Rechargeable | Yes | Available on Some Models |
| Interchangeable Pods | Yes | No |
| Interchangeable Coils | Available on Some Models | No |
| Use with Any E-Liquid | Yes | No |
| Requires Maintenance | Yes | No |
| Disposable | No | Yes |
| Out-of-box Ready | No | Yes |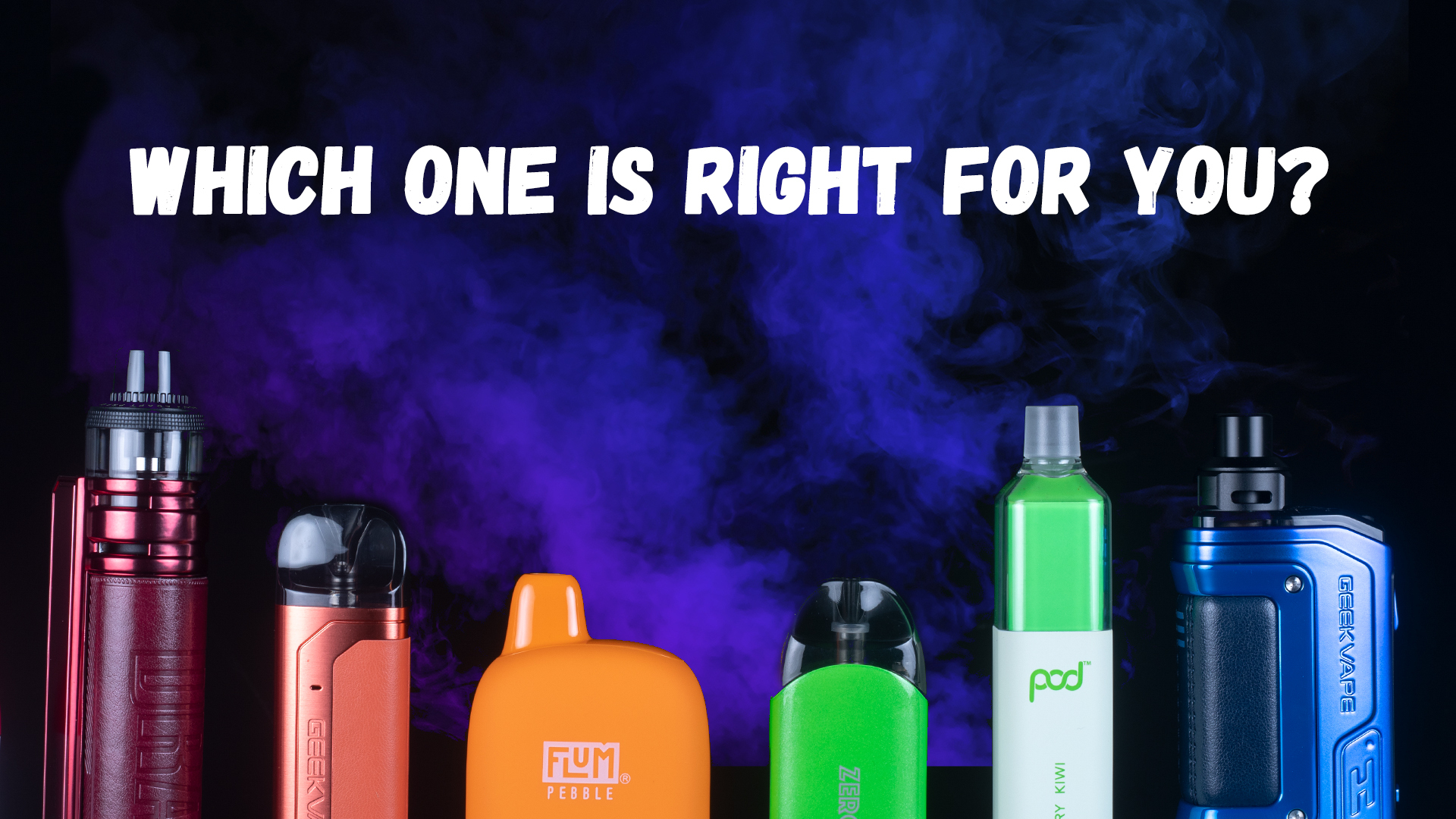 WHICH ONE IS RIGHT FOR YOU?
In the beginning, we said that every person has unique preferences and circumstances that affect their respective decisions. Maybe you're constantly on-the-go and do not have time to deal with refilling a pod? Maybe you're attending an event where you could potentially lose your vaping device? A Disposable Vape is for you. If you have specific eJuices or nicotine salts you are married to and refuse to put down, a pod system may be up your alley. If cost is an issue, a disposable vape can be a short term solution, or fronting the higher initial cost of a pod system can be the long term remedy, if the means are there. It ultimately falls upon the user to find the right type of vape that meets their needs, economy, and preferences. Whatever your choice, you can find a suitable device at our online vape store.